Window Hardware Company
The Window Hardware Company is a dominant window hardware company with a brick-and-mortar store selling industry-leading AmesburyTruth replacement parts for windows, skylights, and patio doors. Despite being a supplier of a high-quality product and being supported by loyal customers, The Window Hardware Company felt limited by an out-of-the-box website that didn't offer effective e-commerce capabilities. As a result, they approached Xi Digital to revamp their website, boost their online presence, and increase market share in an increasingly competitive industry.
The Website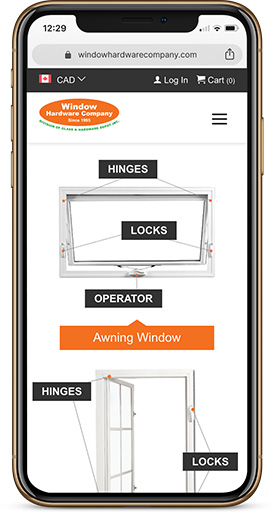 To enhance functionality and navigation, Xi Digital designed a custom e-commerce website accessible on desktops and mobile devices. The responsive design, engineered to accommodate user experience, allows visitors to easily shop for the products by searching product descriptions, looking up part numbers, or even scrolling through the entire catalogue via the website. Enhanced product navigation reduced the amount of time users spent on the website while simultaneously facilitating conversions. As new products were introduced to the store, the custom website powered by the simple and innovative design of the backend Content Management System, Juicebox, made adjusting the online catalogue easier than ever, meaning that The Window Hardware Company could scale their business without restraint.
The Marketing
With the capabilities to process and handle more business online than ever using a new and improved e-commerce website, the next order of business for Xi Digital and The Window Hardware Company was driving more traffic online with innovative digital marketing strategies. Soon after, Xi Digital developed a refined and tailored marketing strategy using paid ads and an organic strategy that aimed to reach more potential customers and significantly boost revenue in both Canada and the USA.