Context + Challenges
Google Local Services is a relatively new platform from Google that offers local businesses an opportunity to apply for a "Google Guaranteed" badge; giving them access to this powerful advertising platform. This service is used by local businesses who provide residential and/or commercial services such as plumbing, HVAC, locksmithing and more, helping them become more reputable, trustworthy, and reliable with Google's stamp of approval. The application process is thorough obviously. Once accepted to the program, companies with this badge are able to successfully attract and engage with many more local customers who require their services. The Google Guarantee exposure puts these companies at the top of the first-page search results, even above Google's paid Ads.
Broward Plumbing became a client of Xi Digital's in early 2019. Our team has been working with them in managing their PPC advertising, their SEO strategy, and other effective types of digital marketing for their Southern Florida based business. Prior to Google's Local Service program being introduced, it was easier for local service providers, like Broward Plumbing, to see a good return on investment from their Google Ads campaigns. We got excited when Broward Plumbing joined the Xi family because we had recently found out from our Google Partner team that the Google Guarantee had been rolled out in the US for companies like Broward Plumbing. As a licenced commercial and residential plumbing services provider, they were eligible to apply for the Google Local Services program. Working with Google, we helped them submit the application and they were on their way to becoming Google Guaranteed. While waiting for approval, two main challenges were brought to our attention:
Broward Plumbing's CPA (cost per acquisition or lead) on Google Ads was too high and leads were very expensive to produce.
Broward Plumbing was not receiving enough leads to keep all their plumbing technicians busy all day every day.
With these challenges, Broward Plumbing realized they were on the right track by trusting our expertise in order to help submit their application. And pleased with their decision, a couple of weeks later, Broward Plumbing became "Google Guaranteed" and saw an immediate and significant increase in both leads and sales. Their technicians became so busy that they needed to grow the team again and add a new truck to the fleet within the first month of their exposure on the "Google Guaranteed" Local Services program. Want to know how we did it?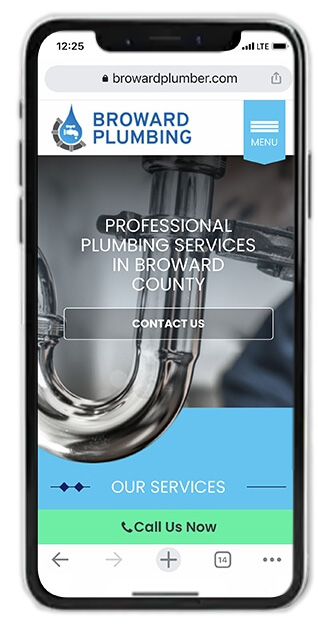 Approach
The process of becoming Google Guaranteed involves a few steps and some communication with Google. Having helped a few companies get approved for the program, we knew how to streamline the process to make it quick, easy and successful.
Through our experience with the platform and assistance from our Google Partner team, we have developed a well-thought-out strategy for managing the software, to ensure that the exposure is optimized for the right searches in the right areas.
This scope included:
Helping to manage the sensitive application process that includes company background checks.
Helping to get the required information and documents to Google for a fast approval process.
Communication with Google on the status of the application to help expedite the process.
Setting up the software on all required mobile devices and computers, and training owners and employees on how to use it properly.
Monitoing and managing the software making sure to send all the right signals to Google and potential customers.
Ensuring the company receives the right amount of qualified leads and targeting the best performing locations.
Ongoing analysis of and optimization of the targeted areas and advertising/website content to ensure maximum conversions.